Recipes on the Road: Thai Curry Rice with Garlic Honey Sriracha Chicken
Thank you Village Harvest for sponsoring this post. Every day Village Harvest is planting seeds of change and growing possibilities, one bag of goodness at a time.
Village Harvest Origins Collection": Ignite your appetite with this Thai Curry Rice and Garlic Sriracha Chicken and discover the delicious side of dinner with Village Harvest Origins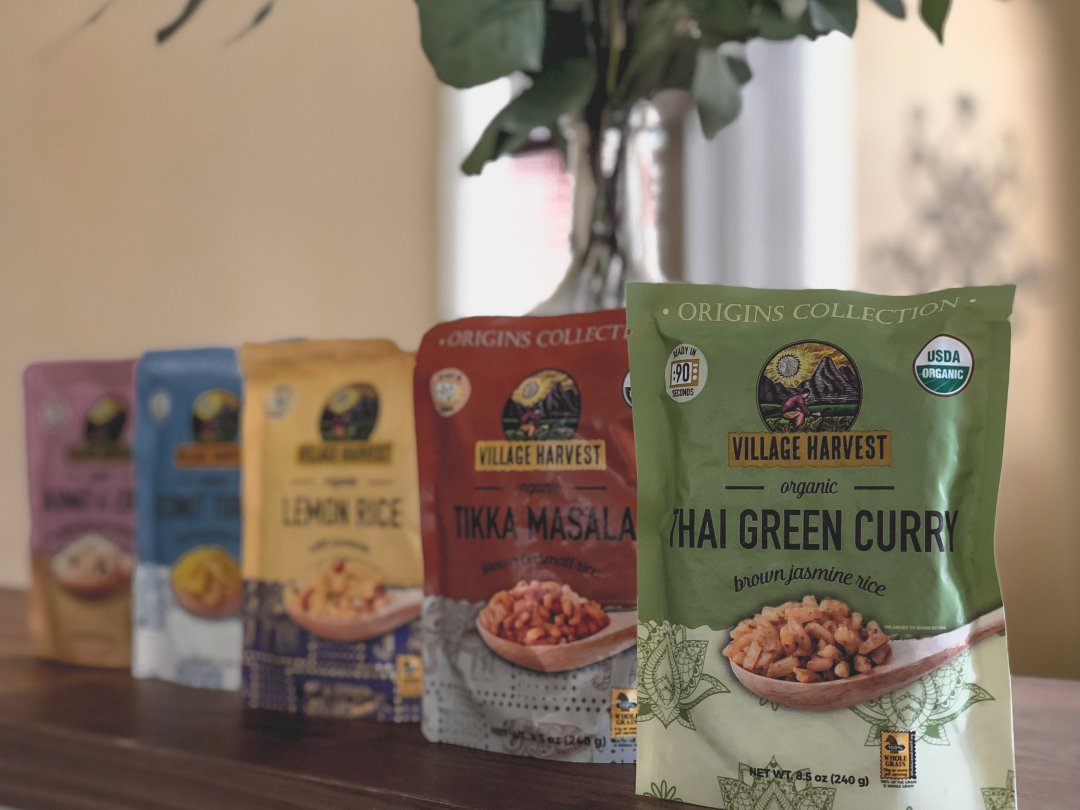 Click the image above to shop the following delicious varieties including: Basmati & Lentil – India Lemon Rice – India Tikka Masala – India Coconut Turmeric – Thailand Thai Green Curry – Thailand
Let's face it. Fast food on the road gets boring. So does spending way too much time in a restaurant waiting for your entree when you would rather be in your pajamas catching up on the latest episode of Barry on HBO Go. (I love that show!)
Whenever possible, I grab a room with a kitchen and full amenities so I can make myself a quick and healthy meal, sans the waitresses and sales taxes. Nothing says wholesome meals like food made in your own kitchen. And as much as I try, I'm no Masterchef and Gordon Ramsay would have some awful things to say about my Thai Green Curry. So I'm not too proud to outsource it to someone who does it a little better. Or a lot better!
Thankfully Village Harvest presents the new Origins Collection, featuring authentic recipes from the land of foodies, India and Thailand. These 90-second side dishes are uncovered in the kitchens of home cooks like Christina Tosi and personalized and perfected by you for your dinner table.
All of the rice dishes in this collection are Organic & Non-GMO, 100% Whole Grain, and Gluten Free. Which is great for keeping fit and full with a homecooked meal while on the road. Even better news for those friends and family who want in on the yummy goodness without the worry of food allergies or unsavory chemicals in those delicious bites.
Enjoy this authentic and flavorful Thai Green Curry Brown Jasmine Rice paired with a Honey Garlic Sriracha Chicken. Restaurant quality Thai Green Curry and chicken made by you, right in your hotel (or home)!
Ingredients
Package of Village Harvest Thai Green Curry Rice
1/4 cup honey
2 tablespoons Sriracha
2 cloves garlic, diced (or tablespoon minced garlic)
2 tablespoons rice wine vinegar (sub for red wine vinegar)
2 tablespoons low sodium soy sauce
2 tablespoon freshly squeezed lime juice
4-6 boneless chicken tenderloins
1 tablespoon virgin olive oil
Garlic salt and pepper, to season
Sliced green onions, to serve
Sesame seeds, to serve
Lime wedges, to serve
Instructions
Chicken: In a shallow bowl, mix the honey, Sriracha, garlic, rice wine vinegar, soy sauce and lime juice together until well combined. Spoon 4 tablespoons of marinade out of the bowl and reserve to use for later as a dipping sauce.
Cover with plastic wrap and marinade chicken for 30 minutes. Overnight, if time allows for meal prep, in the refrigerator.
Heat olive oil in a nonstick pan over medium heat. Sear the chicken in two batches (I do 3 thighs per batch), on both sides along with any sauce leftover in the bowl, until the chicken is cooked through and no longer pink in the middle; the skin is crisp and golden browned, and the underside is charred slightly (chicken will char slightly due to the honey). Transfer chicken to a warm plate and allow to rest for 5 minutes.
Rice Instructions
Microwave Cooking : Gently squeeze pouch Thai Green Curry to separate rice. Tear 2 inches to vent pouch. Microwave on HIGH for 90 seconds.
Skillet Cooking: Gently squeeze pouch Thai Green Curry to separate rice. Pour contents of the pouch into a skillet. Add 2 Tbsp. water and heat. Stir rice occasionally until heated thoroughly.
Garnish with sliced green onion, sesame seeds and lime wedges. Serve chicken along with the sauce on bed of Village Harvest Thai Curry Rice. Drizzle remaining sauce over chicken.
I was selected for this opportunity as a member of CLEVER and the content and opinions expressed here are all my own.